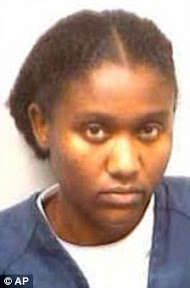 Charged: Lamont Thomas and Jade Sanders
The Vegan couple who only fed their newborn son soy milk and apple juice have lost out trying to have their murder convictions overturned.
Jade Sanders, 27, and Lamont Thomas, 31, had appealed against their conviction four years ago over the death of their six-week-old son who starved to death.
The Georgia Supreme Court upheld the murder conviction of these two who claimed they were sticking to their beliefs over food.
The two parents had rushed their malnourished son to hospital after he began to have trouble breathing back in 2005.
Doctors declared him dead on arrival after failing to resuscitate him.
When police searched the couple's flat in Fulton County, Georgia, they found a soy milk bottle, an apple juice bottle and a rancid-smelling baby bottle caked with debris.
As a result of their lifestyle, their son weighed only three-and-a-half pounds when he died, aged six months
Prosecutors said an investigation revealed the two only fed their baby soy milk and apple juice, and had failed to seek medical treatment when their young son was wasting away.
In her appeal, Sanders' lawyer argued the evidence wasn't strong enough to support the verdict.
And Thomas' lawyer claimed his trial attorney was ineffective because he failed to call an expert to support his theory that his son's death was linked to cystic fibrosis and not starvation.
The Supreme Court rejected the appeal and said the conviction was a go.