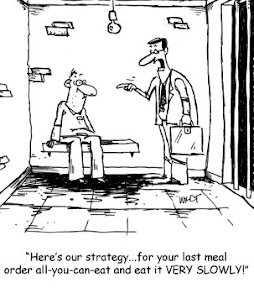 We never understood why inmates on death row, about to he executed, are allowed a let meal request.
Now in Texas, inmates who are scheduled to be executed will no longer get their choice of last meals.
The change was made after a state senator became pissed off over an expansive last meal request from Lawrence Russell Brewer, condemned for the dragging death of James Byrd Jr. more than a decade ago.
Lawrence Russell Brewer, who was just executed, asked for two chicken fried steaks, a triple-meat bacon cheeseburger, fried okra, a pound of barbecue, three fajitas, a meat lover's pizza, a pint of ice cream and a slab of peanut butter fudge with crushed peanuts.
After ordering all that food prison officials said Brewer didn't eat any of it.
"It is extremely inappropriate to give a person sentenced to death such a privilege," Sen. John Whitmire, chairman of the Senate Criminal Justice Committee, wrote in a letter to Brad Livingston, the executive director of the Texas Department of Criminal Justice.
Within hours, Livingston said he agreed with the senator's concerns and the practice of allowing death row offenders to choose their final meal was over.
"Effective immediately, no such accommodations will be made," Livingston said. "They will receive the same meal served to other offenders on the unit."
"It's long overdue," the Houston senators said.
"This old boy last night, enough is enough. We're fixing to execute the guy and maybe it makes the system feel good about what they're fixing to do. Kind of hypocritical, you reckon?
"Mr. Byrd didn't get to choose his last meal. The whole deal is so illogical."
Brewer, a white supremacist gang member, was convicted of chaining Byrd, 49, to the back of a pickup truck and dragging him to his death along a bumpy road in a case shocked the nation for its brutality.
Whitmire warned, if the "last meal of choice" practice wasn't stopped immediately, he'd seek a state statute to end it when lawmakers convene in the next legislative session.
Some states limit the final meal cost — Florida's limit is $40. Texas, never had a dollar limit, said all meals must be prison-made. Some states don't acknowledge final meals.
Then another death row guy, Cleve Foster's request included two fried chickens, French fries and a five-gallon bucket of peaches.
Another inmate Steven Woods' request included two pounds of bacon, a large four-meat pizza, four fried chicken breasts, two drinks each of Mountain Dew, Pepsi, root beer and sweet tea, two pints of ice cream, five chicken fried steaks, two hamburgers with bacon, fries and a dozen garlic bread sticks with marinara on the side. Two hours later, he was executed.
There was once a Texas inmate even requested dirt for his final meal.