Finally, what we have all been waiting for, Nissin Foods in Japan has opened a cup noodle museum.
About 500 adults and children lined up before the museum opened in Yokohama near Tokyo with celebrity guests, including a former prime minister.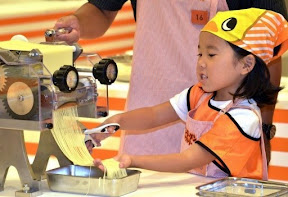 "We opened this place... as a factory that gives children experience and a museum for corporate activities," Nissin Foods Holdings president Koki Ando said.
Ando, whose late father Momofuku Ando invented instant noodles more than half a century ago, said visitors could knead flour, roll out noodles, steam and fry them to make chicken ramen.
There is also a section of the museum called "My Cup Noodle Factory", where visitors can design cups, put dried noodles in them and pick toppings and broth for their own versions of cupped meals.
There are even giant cup noodle containers in the museum for children to play in.
Here's a bit of information we didn't know: more than 95 billion servings of these noodles were consumed around the world in 2010.
The multi-storey Yokohama museum has a total floor space of 107,600 square feet.
Actually, the museum sounds like a lot of fun.