With all the fuss about Chaz Bono, (Chaz is the person wearing the tie in the above photo) and Dancing with the Stars, the transgender activist said of his critics who think he shouldn't be on the show, "It's made me realize I'm really glad I'm doing this, because America really needs to see this."
That's Chaz, before and after in the photo below.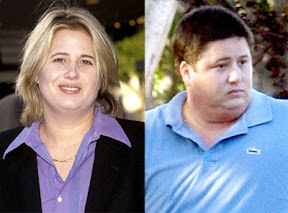 He/she went on to say, "You know, it just kind of shows why for me it's important to be on the show, because so little still is known about what it means to be transgender. And there's so many just completely inaccurate stereotypes and thoughts that people have."
So, while everyone is up in arms over the "he said, she said" thing, there is another issue with Chaz and the show.
Chaz Bono has already lost 5 pounds rehearsing for "Dancing with the Stars," but he/she is upset because he/she feels all the crappy junk food, courtesy of producers, is ruining his/her diet.
As for the food that's upsetting the freshly made man, it's chips, candy, granola and protein bars.
Chaz has demanded very specific food demands to producers.
Maybe Chaz wants to throw his/her weight around making food demands, but these are obviously not ones he/she makes of himself/herself on a regular basis.
Let's face it, the proof is in the pudding...