Now, restaurants, which up till now have not participated in the food stamp program, want a slice of the pie.
Yum! Brands, whose restaurants include Taco Bell, KFC, Long John Silver's and Pizza Hut, is trying to get restaurants more involved, federal lobbying records show.
Federal rules generally prohibit food stamp benefits, which are distributed under the USDA's Supplemental Nutrition Assistance Program (SNAP), from being exchanged for prepared foods.
But the devil is in the details, and there is a provision dating to the 1970s allows states to allow restaurants to serve disabled, elderly and homeless people.
But we can't help but wonder if this is the tip of the iceberg?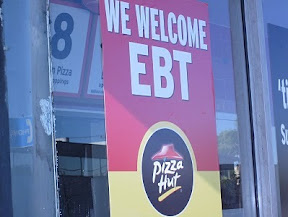 Four states accept restaurants, with Florida the most recent to begin a program.
"It makes perfect sense to expand a program that's working well in California, Arizona and Michigan, enabling the homeless, elderly and disabled to purchase prepared meals with benefits in a restaurant environment," a Yum! spokesman said.
The National Restaurant Association supports Yum!, said spokeswoman Katie Laning Niebaum, but the National Association of Convenience Stores does not.
"If the pie's only so big, nobody's going to want to see the pie sliced thinner," said Convenience Stores spokesman Jeff Lenard. "I'm not sure that's in the best interest of public health."
If we have learned anything over the years, it's this: "what ever these people are saying, they're really only talking about one thing, money."
Speaking of money, food stamps are someone elses money designed to help people survive.
We get this feeling that this is just the beginning of something bigger.
Maybe cigarettes and alcohol are next, why not? Some argue that it should be the recipients decision.
We here at the Voodoo Kitchen collectively believe that we are paying for it so should be our decision.
Otherwise give us the option to opt out of supplying the money to them.