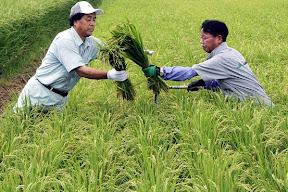 In Japan, a sample of unharvested rice contained 500 becquerels of cesium per kilogram, (Japanese officials say 500 and under is safe) Radioactive cesium, you may remember, was spread from the Fukushima Dai-ichi nuclear power plant after it was damaged by that massive earthquake and tsunami on March 11.
Some nations have stopped importing some food products from Japan and Japanese consumers are understandably nervous about the radiation.
Japan wants more tests done on rice growing near a nuclear plant after finding elevated levels of radiation.
The government has been testing vegetables and fish for radiation since the disaster.