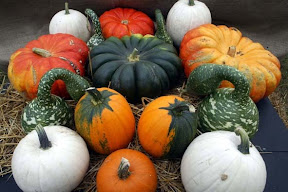 Autumn is our favorite time of year and it's time pumpkins.
While some will become Jack O' Lanterns and holiday decorations, many will be eaten.
Pumpkins have a rich flavor, they are really nutritious, and they are a great source of beta carotene.
When buying a pumpkin to use for cooking or baking, pick one that's unblemished and free of cracks and decay spots. A whole, uncut, fresh pumpkin can be stored in a cool dry place and it will last for several months.
We love pumpkin pie, but pumpkins can be used in many other food preparations like bread, muffins, soups, stews and even side dishes.
So, what kind of pumpkin to choose...???
Halloween pumpkins make great jack-o'-lanterns, don't necessarily make the best pies.
For cooking and baking, the smaller pumpkins with sweet, orange flesh and a smooth, often stringless texture work great.
Baby Pam, Small Sugar Pumpkins, New England Pie Pumpkins, Spooktacular, and Mystic Pumpkins are some wonderful choices for pies or any pumpkin recipe.
Also, there are other varieties you'll find below that are wonderful for your Autumn recipes.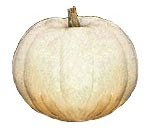 Lumina Pumpkins are medium-sized white pumpkins with bright orange flesh that's great for cooking and baking.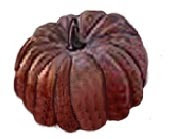 The Fairytale Pumpkin is a thick but tender, orange flesh pumpkin full of flavor for baking.
The Jarradale Pumpkin is a flattened grayish-blue stingless variety from Australia. It has a thick, meaty, orange flesh with a great pumpkin flavor.

Then there is is the crook-necked pumpkin. This pumpkin has a smooth tan skin with a very long neck that's all solid orange flesh. The only seeds are in a small rounded section on one end. Crook-necked pumpkins are full of flavor, it's not stringy and really easy to peel and cook.