UPDATE: An outbreak of listeria in cantaloupe has sickened at least 109 people and led to 21 deaths, tying for the deadliest food poisoning toll in more than a decade, federal health officials said Friday.
Dr. Robert Tauxe of the CDC expects the number of illnesses and deaths to grow in coming weeks because the symptoms of listeria don't always show up right away. It can take four weeks or more for a person to fall ill after eating food contaminated with listeria.
"That long incubation period is a real problem," Tauxe said. "People who ate a contaminated food two weeks ago or even a week ago could still be falling sick weeks later."
On Sept. 21 the CDC reported illnesses in California, Colorado, Illinois, Indiana, Maryland, Montana, Nebraska, New Mexico, Oklahoma, Texas, Virginia, West Virginia, Wisconsin and Wyoming. The agency said then that four had died in New Mexico, two had died in Colorado and one person had died in both Oklahoma and Maryland.
Last week officials in Texas said two deaths are linked to the outbreak and officials in Nebraska said one death there is linked to the outbreak. Officials in Kansas and Wyoming said they are investigating three additional listeria deaths that may be linked as well. The CDC has not confirmed those numbers.
Missouri and Florida have also reported new illnesses linked to the cantaloupes.
The outbreak has been traced to Jensen Farms in Holly, Colo., which recalled the tainted cantaloupes earlier this month. The Food and Drug Administration said last week that it had found listeria in samples of Jensen Farms' cantaloupes taken from a Denver-area store and on samples taken from equipment and cantaloupes at the farm's packing facility. Tests confirmed that the samples matched strains of the disease found in those sickened.
The Rocky Ford-brand cantaloupes from Jensen Farms were shipped from July 29 through Sept. 10 to Arkansas, Arizona, California, Colorado, Idaho, Illinois, Kansas, Minnesota, Missouri, Montana, Nebraska, New Jersey, New Mexico, New York, North Carolina, North Dakota, Ohio, Oklahoma, Pennsylvania, South Dakota, Tennessee, Texas, Utah, Virginia, and Wyoming.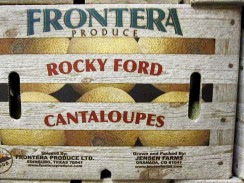 The recalled cantaloupe may be labeled "Colorado Grown," "Distributed by Frontera Produce," "Jensenfarms.com" or "Sweet Rocky Fords." Not all of the recalled cantaloupes are labeled with a sticker however.